OFL200 Handheld Optical Fiber Fault Locator
The OFL200 Handheld Optical Fiber Fault Locator is newly developed equipment designed for optical fiber fault locating and analysis.
With short dead zone, up to 8 fiber faults detection, as well as ease fault location identification, this Intelligent mini OTDR is indispensable equipment for troubleshooting single mode (SM) fibers in FTTx, FTTh networks. This fault locator is integrated with Visual Fault Locator (VFL), which is auxiliary for detecting fiber faults in dead zone.
Features
• Easy faults detection and diagnosis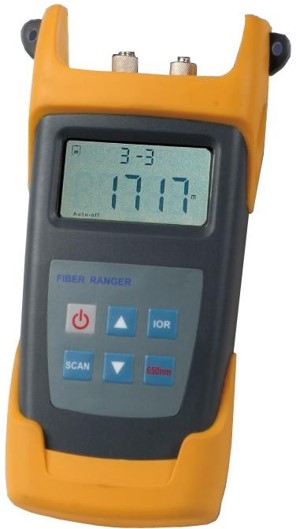 • Compact size, rugged and light weight
• High accuracy and high repeatability
• Max. 8 fiber faults in one measurement
• Automatic Pulse Width Control design for ease of use
• Built-in Visual Fault Locator (VFL), conveniently to find the faults in dead zone
• Dust, water and shock proof, designed for field use
• Long battery life, up to 5000 measurements operation
FX81T-25G 1G/10G/25G PON Terminated Meter
While XGS-PON deployments continue to rapidly grow, some cutting-edge technology and high-density applications require even higher data rates. 25G PON is filling that role, and trials and deployments have begun with no dedicated test equipment available.
The FX81T-25G is the first 25G PON test solution on the market, measuring 25G PON downstream (1358 nm) power along with GPON/EPON and XG-PON/10G-EPON. It provides instant and accurate readings as well as automatic pass/fail testing based on recommendations from the 25GS-PON MSA Group and standards bodies.
The FX81 PON power meter supports legacy EPON/GPON and next generation XG(S)-PON/10G EPON technologies. The unit is available in four or five wavelength configurations depending on RF Video Overlay (RVO) test requirements. The four-wavelength version can be equipped with a broadband power option which is suited to legacy applications including CWDM.
A key feature of all FX81 pass-through versions is its low loss coupler that automatically taps and filters the downstream and upstream wavelengths of each PON technology present. The filtered signals are measured using calibrated, high-performance photo-detectors.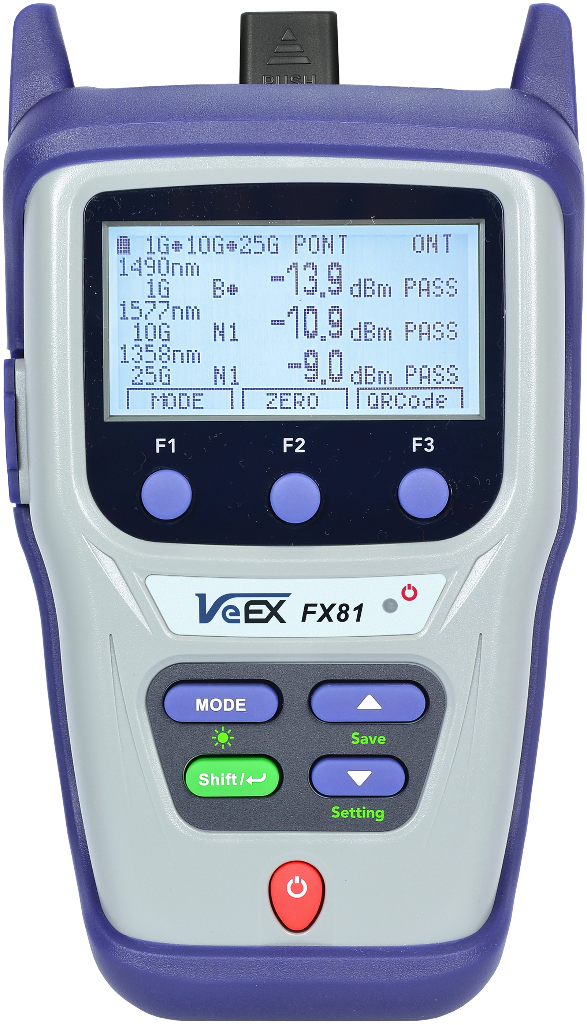 •Compatible with both GPON and EPON fiber networks
oGPON, XG(S)-PON, and 25G PON test applications
oEPON and 10G-EPON test applications
o
•4 models available:
o2 λ non-pass-through/terminated DS: 1490/1577nm (FX81T)
o3 λ non-pass-through/terminated DS: 1358/1490/1577nm
o4 λ pass-through DS: 1490/1577nm, US: 1310/1270nm
o5 λ pass-through DS: 1490/1550/1577nm, US: 1310/1270nm
•Concurrent measurements display
•Fixed SC/APC Interface for ONU and OLT test ports
•Programmable thresholds with Pass/Fail indication
•Optional broadband power meter with universal adapters
oWaveID support when paired with compatible VeEX source
•Non-volatile storage for 1920 OPM
•Flexible data transfer, test result management and report generation options using:
oPatent-pending NoAppTM QR code transfer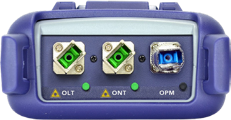 oLT-Sync PC software (microUSB or optional Bluetooth)
•FiberizerTM for Android, Windows, and cloud
•High contrast LCD - visible outdoors, programmable backlight for indoor or low light conditions
•Battery: Built-in, rechargeable Li-polymer
•Battery operating time (with backlight):
oFTTx PON mode: >25 hours


FX41xT Selective PON Power Meter for G-PON and XGS-PON
10G Next-Gen and Legacy PON Optical Power Meter Provides fast, simple, and precise measurement of G-PON and XGS- PON downstream signals. Miniature filters ensure each wavelength is measured accurately. The tester is well suited for installation, service verification, and troubleshooting of co-existent networks, including IEEE based E-PON and 10G-EPON deployments.

•Downstream signal verification for G-PON and XGS-PON networks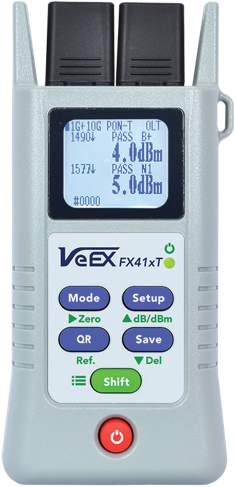 •Simultaneous 1490/1577 nm signal level measurements
•Pass/Fail indication per PON Class or User thresholds
•Alkaline or rechargeable NiMH batteries with Auto- off
•Save over 2000 measurements with date and timestamp
•Save/display test results via NoApp™ QR code for mobile device transfer, post-processing, sharing, and upload
•Cloud-based NoApp™ service (included) allows for data augmentation via mobile phone or tablet.
•Micro USB interface for 5V DC powering and battery charging
•High contrast backlit, monochrome display - visible outdoors and indoor with varying light conditions
•Splash and dust resistant keypad and chassis design
•Rugged polycarbonate chassis for demanding field conditions
•Fixed SC/APC connector interface with protective dust caps
•Visual Fault Locator (VFL) option
•Broadband Optical Power Meter (OPM) option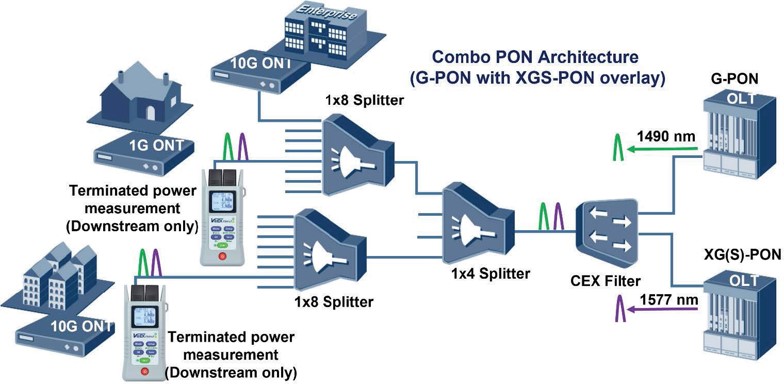 TYPE-502S Elite Active Clad Alignment Fusion Splicer
The Artificial Intelligence (AI) technology assists you in the field to ensure faster work output. AI technology supports the splicer direct to factory in the field if it senses an issue.Nano Tune AI Hot Core Analysing (HCA) analyses the fibre ends to offer a more accurate loss estimate.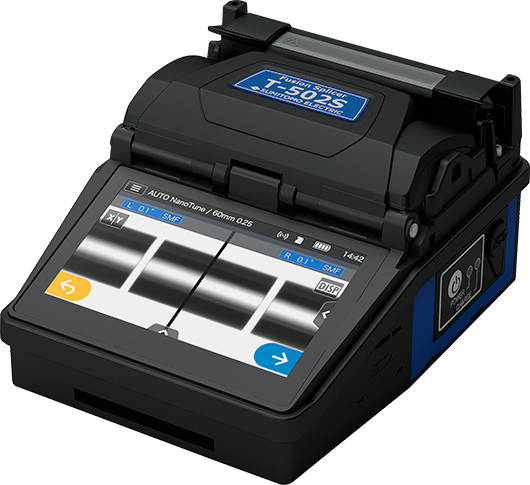 •Typical Splice Time Approx. 6 sec (SMG652 Quick mode)

•Typical Heat Time Approx. 13 sec
•126W x 154D x 83H (mm) (without protrusion)
•Smartphone-like intuitive operation
•Pass/Fail software.
•6000 splice electrodes
•Auto Core ID
•Wider alignment thresholds
•Adaptive clamps
•IP52 Water and Dust rating
•1.1kg package.
•Fully set up as soon as you open the case/work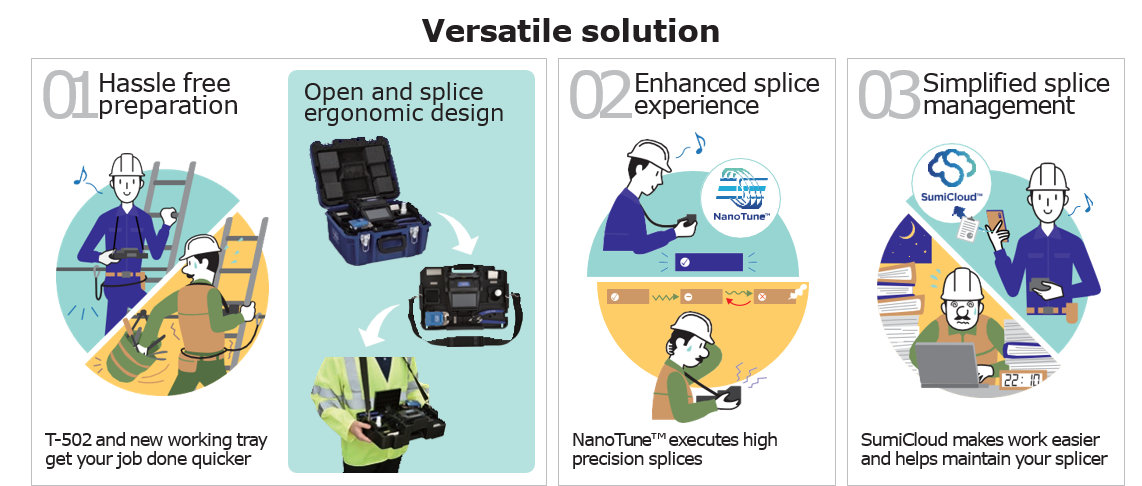 VeEx Success at the Annual Lightwave Reviews
The 10th annual review of products introduced or enhanced since March 2022. This year's panel included senior management from Lumentum, ADVA, Ciena, Cisco, Verizon. Judged on a 1 to 5 scale, criteria such as originality, innovation, impact on the customer and cost-effectiveness were examined.
In the Field Test Equipment category, VeEX scored a 4.5 on the Next Gen FX120 PON Analyzer and a 3.5 on the FX41xT. Comments from the judges, "This PON analyser has nearly every function that you need to commission or service a PON, including power measurement, PON TC-layer info gathering, and fibre-length measurement."
atg Technology Group Represent VeEX in New Zealand, contact info@atgltd,co.nz or call 09 4760364

Excavation Spotters Safety Shovel
Civil excavation can create dangerous and uncertain situations. Unknown asset locations cause unmeasurable risk when excavating.The Safety Shovel provides the ideal real-time detection of metal and power subsurface (Underground).
The Safety Shovel allows excavation spotters the ability to detect metallic objects (water, gas, communications etc) and electric circuits underground in real time. With LED alarms visible to excavation spotter and excavator operator,the Safety Shovel significantly reduces the risk of unplanned asset strikes. The industry has experienced unprecedented demand for organisations to protect workers from known and unknown risks and as such Industry safety organisations have mandated excavation spotters be present during excavation to reduce risk.
With combined legislative demands on Directors and Managers and Work Safe fines crippling those who don't take safety seriously, the Safety Shovel is your protective shield against assets strikes.
Although DBYD is a great start, inaccuracies and limited private site details increase risk to staff and assets. The Safety Shovel is designed to be used as a supportive tool to protect workers from harmful events that cause human and infrastructure risk.
The Safety Shovel is designed to be used as a supportive tool to protect workers from harmful events, resulting from assets strikes. Although best endeavours are deployed to prevent infrastructure strikes, records that are inaccurate deliver risk that cannot be minimised without advanced tooling.
The Safety Shovel provides a functional real time detection tool to protect workers by simultaneously detecti& Electrical cables (EMF) under the ground ng Metal objects (subsurface). With alignment to Australian excavation standards the Safety Shovel assists workers to operate within the Exclusion Zone and detect materials and cables that if damaged, would result in a major OHSE event (Asset Strike). Typical assets detected include, water and gas pipes, communications cables, and LIVE power cables. The Safety Shovel compliments the efforts of DBYD (Dial Before You Dig) and alerts excavation teams.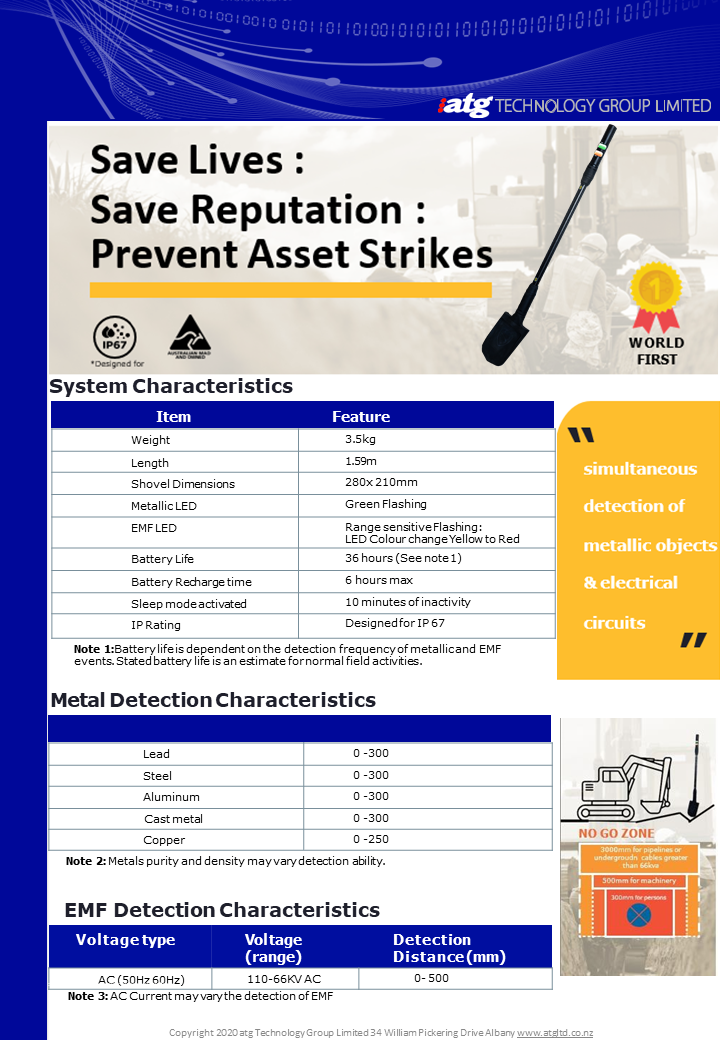 Complete PON and QoE Testing with the New FX120/FX120 Lite
VeEX's new Next Generation FX120 PON analyzer and multi-gig service test set provides the perfect solution. Compatible with GPON, XGS-PON and EPON networks, the Next Generation FX120 allows technicians to simultaneously measure all three signals; pass/fail results according to the ITU-T and IEEE standards can be obtained with the switch of a button, thus eliminating any cross-contamination.

•Dual port wavelength filtered, through-meter for simultaneous ONT/ONU service verification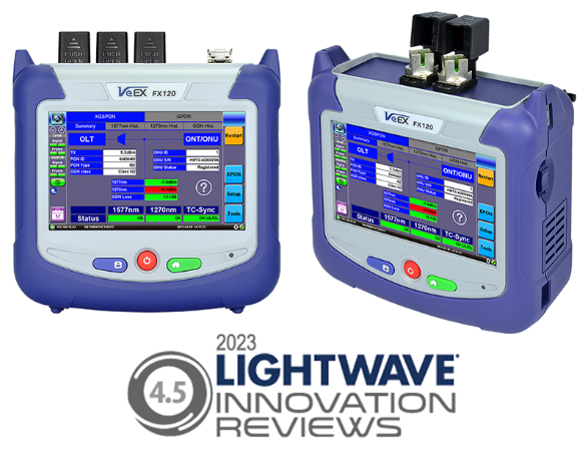 •Complete Layer 4+ test suite: V-TEST (Ookla® Speedtest®), V-PERF (RFC6349), and V-FTP upload and download tests with native RJ45 and SFP cage
•Optional end of fiber detection
•Patent pending NoApp™ QR code capability for faster result transfer•Easy report generation and data transfer using R-Server for workflow and results management
•Compatible with GPON, XG(S)-PON, and EPON networks
•Pass/Fail ITU-T thresholds enable fast, efficient, and consistent turn-up of services.
•Simple and intuitive user interface
•Field upgradeable or result transfer using USB stick
•Fast boot and ready to test in <60 seconds
•Field replaceable Li-Ion battery pack with >12 hour autonomy
•5-inch LCD color touch screen
•Rugged and compact form factor

Jetting Air Blown Machinery
Blowgun and Blowing Machine combine robustness with low weight
Can used easily without tools and they are fitted with all the functions you need
Machines are constructed to work without problems out in the field
SumiCloud™ - Enhance your fibre optic splicing experience
SumiCloud™ is a powerful tool that supports your fusion splicer in the field. Using your smartphone, your splicer connects to the internet and Sumitomo's cloud services which include data management, asset management, firmware updates and maintenance support.
Enjoy a new generation splicer experience with SumiCloud™.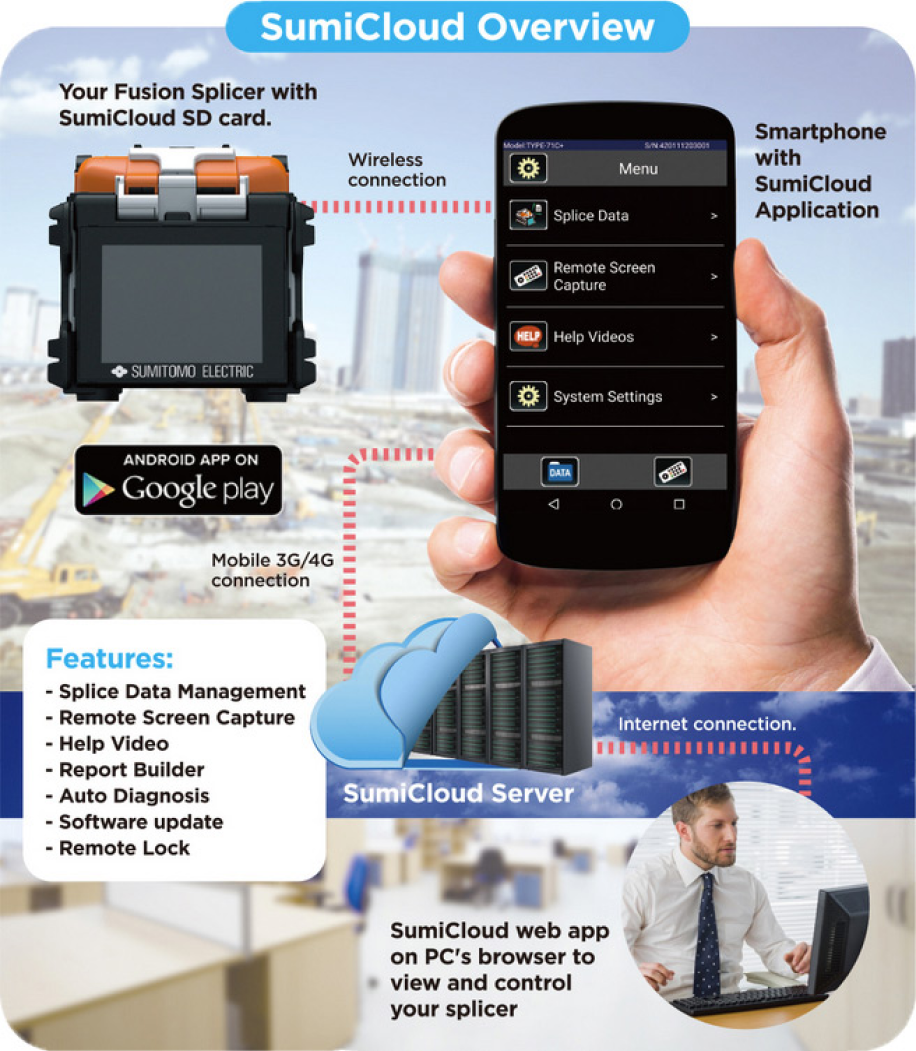 Smooth and secure support for field operators using SumiCloud™ smartphone app and for managers using SumiCloud™ web app.
SumiCloud™ delivers benefits to all TYPE-71C+ users: telecom carriers, installation contractors, rental companies and maintenance offices
Splice Data Management - Real time data sharing on your smartphone and web browser
Remote Screen Capture - Capturing real-time splicer display for better support
Help Videos - Wide range of help videos to support user training and proactive maintenance
Report Builder - Finish up your field report by several taps on your smartphone
Auto Diagnosis - Remote health check to minimize troubles in the field
Software update - Keep your splicer firmware up-to-date with the latest version to ensure optimum performance
Remote Lock - Lock and unlock your splicer for safety and security